Oh fine, you might not think that sounds appealing. But it does to me. I've been wanting to try another recipe with wheat germ ever since I made those breakfast cookies in BC, and I love the flavor of molasses, and the picture on the recipe just looked very delicious to me.
Look at it.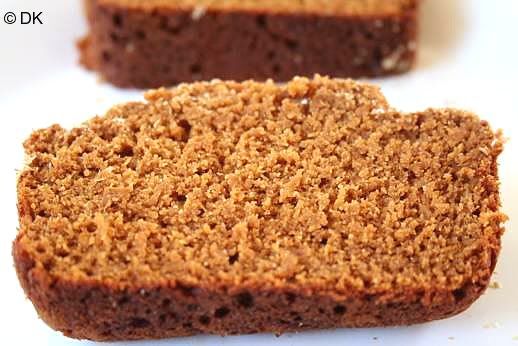 How could you not want to make that?
The only thing that potentially deterred me was the 1/2 cup of oil. I cut that back to 1/4 cup and used low fat vanilla yogurt instead, somewhere between 1/8 and 1/4 cup. It was definitely not precise. The recipe called for black strap molasses, and I got confused about what kind of molasses I have. Later in the blog it says that in place of blackstrap molasses, you should cut the honey and just use 1/4 cup of molasses. So…I Googled it and it seemed that what I had was definitely not blackstrap.
Which means, the bowl now had 1/4 cup of molasses, some oil, and some yogurt. It did not look pretty.
Things looked better once I added the buttermilk.
In a separate bowl, I started gathering the dry ingredients. Whole wheat pastry flour, whole wheat flour, salt, baking powder and baking soda. After whisking that together, I added the wheat germ. Lots of it!
Then the kids decided they need to get involved. This sequence of photos keeps cracking me up.
They ran off to play, and I poured the wet ingredients into the flour mixture and stirred well, being careful not to overmix.
I transferred it to a loaf pan, and per the directions, sprinkled wheat germ on top. Then I sprinkled cinnamon on top. Then, since the oven was still heating up, I tasted the batter.
It wasn't very good.
I was nervous. I kept thinking it had to do with the molasses-honey replacement, the type of molasses I had, the lack of sugar to compensate, something. I took out the Demerara sugar and sprinkled some of THAT on top.
Then the oven beeped, and in it went.
I really didn't want this to be a dud. Yesterday's zucchini chocolate cake was a big disappointment, and I was determined to get something good today, even if it meant starting all over again when this was done.
While it was baking, I delved more deeply into my molasses research. I did, indeed, have light molasses, so I did do the right thing according to the kind, advice-giving person who posted the recipe. I waited, and hoped.
At 50 minutes it was done. I let it sit in the pan for a while.
It looked okay. I took it out of the pan about 20 minutes later.
Still nervous, I sliced it open. My spirits were lifted. (Also I was on the phone with Mom at the time, so she got the play-by-play.)
I tasted.
Success! It's not a sweet bread, it's not meant to be dessert. It's a healthy, flavorful bread that I gobbled up two huge pieces of last night. The sugar on top gives it a bit of crunch and sweetness, but the main part of it is just a yummy, breakfast-y sort of bread. If you are a spreading-butter-on-things kind of person, you'd put butter on it, or apple butter, or pumpkin butter. I myself prefer it plain.
But yes! I like this one a lot. And I like knowing it's good for you, all that wheat germ and molasses, whole wheat flour, and no sugars or butter. You just have to know what you're going to get with this one so you're not shocked by the lack of dessert-y qualities. It's still a win.
Win!